Biography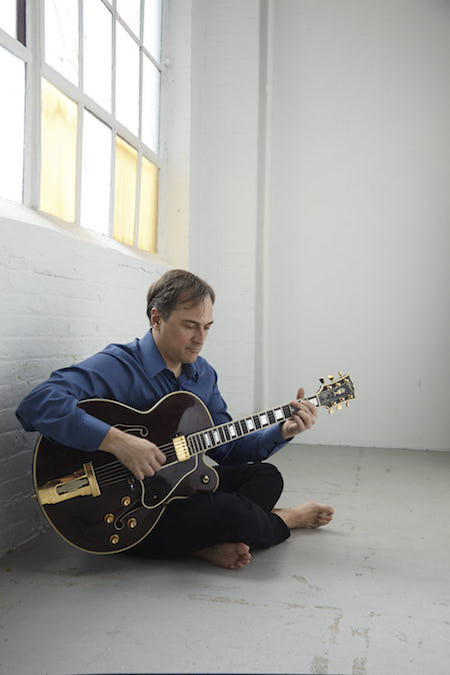 Larry Corban is a New York City based guitarist that has had extensive experience working with some of the world's greatest musicians.
He has played, performed and/or recorded with James Weidman, Harvie S, Steve Williams, Buddy Williams, Sylvia Cuenca, Essiet Okon Essiet, Ron Affif, Omer Avital, Avishia Cohen, Daniel Freedman, Michael O'Brien, Chris Carroll, Ralph Peterson Jr., Ron Affif, Essiet Essiet, Roy Hargrove, Vic Juris, Adam Rogers, Oz Noy, Nir Felder, Rick Stone, Rob Garcia, Chris Tarry, Gerry Neiwood, Dick Oats, Sean Jones, Tia Fuller, Dan Pratt, Robert Glasper, Eric Lewis, Reggie Washington, Joe Cohn, Brian Charette, Saul Rubin, Ugonna Okegwo, Duane Eubanks, Jay Collins, Grant Stewart, Phil Stewart, Ari Roland, William Ash, Cliff Barbaro, Big John Patton, Arnie Lawrence, Wayne Krantz, Keith Carlock, Tim Lefbre, Matt Beck, Ben Butler, Sean Driscoll, Richard Hammond, Conrad Korsh, Aaron Heick, Thomas Hutchings, Richard Lee and Irrational Logic, Michelle Walker, Joe Abba, Janelle Reichman, Yoshi Waki, Paul Francis, Lizzie Thomas, Rob Reich, Julia Meinwald, Jake Ezra Schwartz, Nat Janoff, Jeff Barone, Rob Slowik, Diego Vogolino, Matt Pavolka, Scott Neumann, Marie Anne McSweeney, Matt Chertkoff, and Peter Mazza. He has subbed the guitar chair at Spider-Man: Turn Out the Dark (Broadway), Mary Poppins (Broadway), Priscilla Queen of the Desert (Broadway), Hello Again (Off-Broadway), Altar Boyz (Off-Broadway), Evil Dead Too (Off-Broadway), Milly (Off-Broadway), All Shook Up (Off-Broadway), Xanadon't (Off-Broadway), Radio City Christmas Show, and Big Apple Circus.
Larry holds a Bachelor of Music in Jazz Studies from Ithaca College, has studied privately with Pat Martino, Wayne Krantz, Joanne Brackeen, Jack Wilkins, Vic Juris, David Fuze Fiuczynski, Mick Goodrick, and Rick Beato, and has accumulated credits towards a Masters Degree in Music Education at Hunter College.
---
What People are Saying:
"Larry is one of the bright new faces on the New York jazz scene. He is a gifted guitarist and composer!" – Vic Juris
"Larry Corban and I have been playing together for a couple of years and we came to point where we were ready to go into the Studio.
Larry's tunes are challenging and fun to play and I feel we had a relaxed and swinging session aided by the great Steve williams on drums. I hope this Cd will garner more Larry Corban fans." – Harvie S
Larry Corban: The Circle Starts Here (2012 [2013], Nabroc): Guitarist, based in New York, second album, a trio with Harvie S on bass and Steve Williams on drums. Soft metallic lines (some nylon), S does a fine job of beefing up the sound.   4.5/5 stars – Tom Hull, Jazz Prospecting & Village Voice
 Larry Corban, The Circle Starts Here (Nabroc).  Belgian-born, NYC-based guitarist Corban unites with bassist Harvie S and drummer Steve Williams in a set list of calm daring.  Corban experiments with various guitars and strings, all the while giving each trio-mate a starring role.  Almost all originals, Django would be proud of this re-energized Gypsy guitar. – Ann Porotti, WTJU Charlottesville, VA.
Have been playing the new Corban CD and have been enjoying it very much, Excellent! – Jim Clark, KUSD South Dakota Public Broadcasting
Larry Corban, a bright new face on the New York jazz scene, is a gifted guitarist and composer.  He is excellent! – Peter Kuller, Radio Adelaide Australia
"Larry plays a solid set of imaginative original compositions covering a wide range of styles on this release. He has chosen his bandmates wisely (difficult to go wrong with Harvie S and Steve Williams!) and amply demonstrates that he can burn, and I especially enjoy the contrast provided by his ballads and acoustic work. A CD worth checking out!" – Rick Stone
"Larry's playing is emotionally satisfying on a technical level. His recent trio recording, The Circle Starts Here, is packed with his beautiful compositions and unique improvisations." – Michelle Zangara  (Jazz Singer)
"Larry is one of the most reliable and most hard working session players in NYC I know." – Hendrick Helmer (Guitarist, Singer, Songwriter, Producer)
"Larry Corban is unarguably on the rise as one of the few jazz guitarists on the New York jazz scene that has distinguished himself by embracing his rock roots and fusing it with his jazz sensibilities." – Michelle Walker (Jazz Singer)
"A truly dedicated guitarist. Larry Corban has a clear vision of the Past, as he looks to the Future!" – Jeff Barone (Guitarist, Producer, Composer, Conductor, Midi Specialist)
"Larry Corban is a multi-dimensional artist in every sense of the word – not only is he a phenomenal composer, but Larry posseses a technical and musical facility as a guitarist that enables him to bring to life the sounds, imagery, and emotions born in his mind, in a most exemplary fashion. The quintessential guitarist." – Douglas Makuta (Composer, Multi-Instrumentalist)
To view Larry's Press-kit materials, please CLICK HERE